Annelle's Spectacular California Luxury Retreat
Just to the north of Los Angeles, in West Hills, California, nestled between Box and Bell Canyons, sits one of the most unique and most amazing values in Southern California, a home Annelle likes to think of as her private retreat, high above the hustle and bustle of the city, yet just minutes from everything.
See the rest, then buy the best. Learn more about Annelle's property...

[1] [2] [3]

[next]


Click on each thumbnail for a closer view (scroll down to view):


West frontal
view faces
entire Valley


Floor-to-
ceiling views
of Valley


East patio
leads to bbq


Gated secure
entry patio
w/ redwood


Glass double
main entry
doors


Decorative
gate leading
to private
brick patio
with Jacuzzi

Spectacular
western view
from living
room


Part of the
panoramic
view from
living room


View, seated
at wet bar,
LR windows
w/Southern
view.


Wet bar,
slider facing
patio/bbq &
fireplace


Custom rock
wood
burning
fireplace


Kitchen
Granite
counter tops
& custom tile
flooring


Kitchen
Island
Pantry & lots
of space


Redwood
main entry
patio



Main entry
w/slider leading
to a bedroom



Western
view walking
up custom
brick main
entry


Custom brick
& wrought
iron w/lights
surrounds
main patio


Dining Room
can be as
formal or
casual as
you'd like

Million-dollar
homes sit
just below


Million-dollar
views...
Looking
South from
living room
windows


Built-in bbq
plumbed with
working sink


Garage:
Oversized
2 1/2 car
w/windows,
New custom
door w/glass
features


Another
spectacular
unobstructed
view from
the spacious
living room


The living
room lights
up with
nature, city,
mountain &
sky views


Illuminated,
the house
has a look
and feel you
must
experience


West frontal
view faces
entire Valley
Night Photo


East patio
leads to bbq
Night Photo



Dramatic
Exterior
lighting
on wrought
iron around
brick patio


Dramatic
night photo
taken from
mountain-
side stairs


Night photo
from kitchen
(of living room
and view)
on a stormy
night

Million-dollar
views...Night
photo from
living room
windows


Million-dollar
views...Night
photo from
living room
windows


Million-dollar
views...Night
photo from
living room
windows


Million-dollar
views...Night
photo from
living room
windows


Million-dollar
views... Even
the moon is
spectacular


Photo shows
property w/
unobstructed
location


Arial view of
subdivision
shows pool,
tennis &
prime
placement of
this property


Subject property
is located on a
triangular lot w/
unobstructed
views & ultimate
privacy/security


Nearby homes
just down the
street valued
in the millions

More Pics
Coming
Soon of...
New Roof
New Windows
New Garage
Door...


CS


CS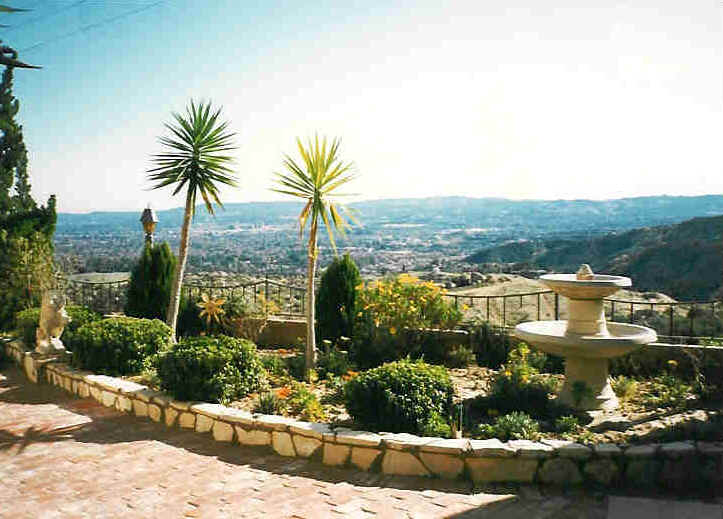 Annelle originally acquired this amazing one-of-a-kind single-story property in 1989. It was designed especially for one of the owner/developers of the community as his private home, so one can only imagine his desire to have the premier home with the most spectacular views in the community. Annelle immediately placed her signature white, baby-grand piano in the living room, playing music and writing songs by the twinkle of the night sky above and the glow of the city lights below. With it's unobstructed million dollar mountain and city views, security (private gated home within a private gated community) and harmony, her retreat is truly an entertainer's delight.

Beginning in 2004 through 2006, numerous improvements, upgrades and renovations took shape, helping to bring this home to modern day standards, making it extremely efficient and so much nicer than most others, especially those older homes in need of constructive upgrades. These improvements are meant to provide Annelle or anyone who buys the property with years of enjoyable, virtually maintenance-free, living space. Annelle had planned to enjoy the property for many years to come, however, schedule conflicts and personal family situations have caused too much travel and too little quality time spent at this property. As Annelle says, the house is for sale, if the right buyer comes along. Annelle's become somewhat protective of this property, and since there's no lifestyle like this in the Los Angeles area today for under millions of dollars, if you're serious, about living this lifestyle, please email Annelle ASAP. The property is being marketed, and though over a thousand calls have come in, please schedule an appointment if you'd like to see the property. Annelle's schedule keeps her out of town often (which is why it may take a few days before an appointment can be scheduled), and she's showing the property by appointment only, on scheduled weekends and on certain weekdays, call to arrange a viewing.

Don't be surprised if you step onto the property as Annelle did years ago, realize it's unlike anything else in this price range (1100 sq.ft. condos are selling for the same price, which are so often no more than an apartment) and make a quick decision to buy it. We know there's only one property like this, and when you see it, we're sure you'll agree. If you're viewing this page, you're privy to this information early, so drop us an email or give us a call at 1(818)566-5164 or 1(818)-716-1912. Again, the property will be shown by appointment only. We'd appreciate Realtors and those private parties interested in the home either keeping the appointments they make, or calling to reschedule. Thank you for your interest in this spectacular property.

UPDATE - The property is being marketed at a price supported by a recent appraisal, however; Annelle is continuing to make major improvements to the home which warrant the asking price. Annelle's so pleased with the improvements that she's also talking about pulling the property off the market and simply keeping it. Anyone having a serious interest in purchasing the property is encouraged to move forward with a full price offer. There is nothing else like this home anywhere in the area for under $1M+ dollars.

Initial improvements to the property included insulation, moisture barrier, rim joists, and more. Even more recently, and at the time this is being written, even more improvements are underway. The new custom garage door has been installed and looks amazing, it adds a glass feature and a "today" look to the property. The patio cover over the front patio has been improved and updated with new alumawood style top slats, you've just got to see it to appreciate it. The new roof was completed in August 2005 with light colored reflective shingles to make the home more energy efficient. And now, new windows are being installed with decorative features and Low-e glass for even greater efficiency. For those who have seen the property and know that a roof allowance had been discussed, obviously, that allowance will no longer be available. Once the windows are completed, we expect to have the entire property painted. If you see the property before we paint, we'll be pleased to paint it any color you'd like, or give you a paint allowance.

Property Info:

Exterior Description

Size:
Approximately 2400 square feet of single-story living. This top-of-the-line Silvercrest quad is located on an 8,000 square foot "view lot". The largest lot in the community. Meticulously maintained, updated and renovated in 2004.

"Silvercrest homes are built to a higher standard than conventional housing" as is stated on Silvercrest's web site. Silvercrest has long been the top-of-the-line in the world of manufactured homes.

Special Model Features:
Custom patios w/built-in's (original cost approx. $80,000, if built today, $250,000) are just one of the features highlighted here...
- Single-story
- Concrete Front Patio with Redwood Awning with southern view of the Valley.
- Pie Shaped Brick Patio with built-in Jacuzzi and lighted black wrought iron gate around patio with east view of valley and mountains.
- Concrete Patio facing north views of the Valley with lighted gate also.
- Back yard with built-in barbeque grill (incl. sink) with access to garage and back door of home.
- Extensive brick sidewalk and garden leading to glass front entry doors with view of the south valley and surrounding mountains.

- NEW BRICK & CONCRETE WALKWAY addition finished May 2005. Annelle loves this property and even while considering selling it, she's still making improvements. Annelle recently added a brick and concrete walkway alongside the garage, connecting to one of the back patios where the built-in bbq is. This is a beautiful and functional feature. Be sure to see this lovely addition to the property.

Private & Secure Entry: In addition to the gated entry to the community, this property enjoys a safe and secure atmosphere created by a combination of locking gates, the most dramatic of which are also quite beautiful, the custom designed locking wrought-iron entry gates which provide an extra level of security while bringing a majesty to the entrance of the property. Access is gained by keyed-entry only.

Garage: Oversized 2 1/2 car garage with automatic garage door-opener (with two clickers), two windows and lots of great storage space. Door opener is under a Sears service contract. A new rolling type garage door with glass window accents was recently installed, bringing the property even more up-to-date. A brick and concrete walkway was recently added to the side of the garage, making walking around the garage a joy.

Private Driveway: Unique to this lot only. Capable of parking 8 cars.

Landscaping: Front area is fully landscaped with mini palms, flowers, assorted foliage & mini rose garden overlooking the south side of the Valley with wrought-iron lighted gate.

Exterior colors: See photo's
Construction: Wood framed home on a raised foundation w/earthquake bracing and other features. Insulation (moisture barrier) replaced beneath the property in 2004, part of a constructive renovation intended to make the property extremely efficient and keep power consumption at a minimum. Materials such as Johns Manville ComfortTherm and Tyvek home-wrap by DuPont have been used during recent constructive upgrades. These quality, high-tech materials were not available when this home was manufactured, now they're a special part of this fantastic home, providing a greater level of protection for the home for years to come.

Upgrades were also made in 2004 to the return duct system, providing an excellent, efficient method of heating and cooling. These are substantial improvements over the original design of this home, using today's advanced materials and methods of installation, the home will be operated efficiently. Every home of this type and age should have these upgrades.
Roofing: Composition shingle (look for new roofing details soon).
Siding: T-111 type composition panels
Skirting: Rock wall
Utilities Required: Water and electric

Interior Description:
Floor Plan:
3 Bedroom ι 2.5 Bath (2,448 sq.ft.)

Living Room
featuring a "Great-Room" concept and the most amazing views...
- Spectacular views are highlighted by glass all around...
- Custom double-door entry (low-e, glass from top-to-bottom), providing spectacular views.
- White paneling
- Vaulted 14' wood-beam ceilings
- Six floor-to-ceiling windows providing spectacular, unobstructed views of the Valley and mountains to the east, south and southwest.
- Wood burning floor-to-ceiling custom rock fireplace
- 9' Wet-Bar: Custom mirrored wet-bar includes built-in cabinetry below and glass and mirrored (and lighted) cabinetry above. Custom lighting above the entire bar.
- Sliding glass doorway leads to oversized concrete patio and spectacular mountain views.

Family Room
Four floor-to-ceiling windows overlooking the backyard and built-in barbeque with views of te Valley and mountains to the east of the property.

Master Bedroom
17' x 15' ι Walk-in Cedar Lined closet with custom ceramic tile flooring, wardrobe mirrored doors and built-in cabinetry and storage areas. New Low-e windows.

Master Bathroom
Attached to (entered from the) Master Bedroom, this is an oversized bathroom with a "full" glass enclosed shower, Jacuzzi tub, garden display window. Double sink w/vanity. Lots of storage space created by built-ins which include a built-in hamper. Custom Italian tile floors, custom foil wall coverings, and the dropped ceiling is enhanced by Victorian Designer Tiles. New Low-e designer window.

Bedroom 2
12' x 12' ι Double wide cedar-lined mirrored wardrobe closet. Triple, new Low-e windows.

Second Full Bathroom:
"Jack & Jill" Full Bathroom adjoins Bedroom's 2 & 3 (New Low-e window).

Bedroom 3
12' x 14' ι Double wide cedar-lined mirrored wardrobe closet. Two floor-to-ceiling windows (newly replaced with Low-e designer windows) and a newly installed sliding glass door (with designer features) leading to the concrete front patio with redwood awning.

Adjoins "Jack & Jill" full bathroom

Second ("Jack & Jill") Full Bathroom
Accessible from either bedroom 2 or bedroom 3
Full shower/tub, window, single sink, built-in dressing table/vanity, custom mirror and built-in cabinetry. Custom Italian tile floors and custom wall coverings. New Low-e window installed recently.

Guest Bathroom / Powder Room
Hallway access. 1/2 bath with Custom Italian tile floor and custom foil wall coverings.

Kitchen
GREAT ROOM CONCEPT
Overlooking the living room, the functional and elegant design of this kitchen is outstanding. - Granite countertops (wrap-around design)
- Custom tile flooring
- White cabinetry w/pewter hardware.
- Dishwasher
- Center island with built-in trash compactor. Plumbed and ready for sink/disposal.
- Built-in microwave oven
- Jenn-Air Grill
- Double Ovens
- Walk-in pantry
- Custom wall coverings
- Dropped ceiling with designer tiles
- Spectacular mountain views from kitchen window (new Low-e window recently installed)

Dining
- Vaulted wood beam ceiling
- Triple-wide window provides spectacular mountain views
- Custom stone type ceiling fan/light fixture w/dimmer

Utility Room ι Laundry Room
- White-washed paneled cabinetry above washer/dryer area
- Large sink built into countertop
- Built-in storage cabinets on both sides of room
- Built-in desk area
- Outside access door to patio/backyard and garage

And more...
- Sophisticated security system installed
- CGFI outlets in place of standard outlets in kitchen and bathrooms
- Upgraded ventilation and duct system
- Upgraded plumbing
- Upgraded insulation and moisture barrier
- Newly painted wrought-iron throughout property, using the best anti-rust paint, should last for years and years
-
Community Amenities/Features
Secure private gated community with electronic access to visitors
Video surveillance provides view of entry gate on a dedicated TV channel
Walk to the Clubhouse, nestled beneath a dramatic mountainscape, available for parties, meetings, etc.
Private gate key provides for exclusive access to the Pool and Jacuzzi (of course, the house comes with its own very private and secure Jacuzzi)
Lighted Tennis Courts (2)
RV parking available
Guest parking throughout the community
15 minutes to shopping centers, food markets and restaurants of choice. Easy freeway access via the 101 or the 118.
Physical Location
The Summit
West Hills, California
Accessible to major freeways and surface streets. 30 minutes to the beach, 45 minutes to downtown Los Angeles, 30 minutes to Bob Hope Airport in Burbank. Secluded and quiet property for a discerning buyer who enjoys privacy, likes to entertain, and wants to be able to live a lifestyle where the focus is on living and enjoying where you live.
Viewings by appointment only.
To schedule an appointment call 818-566-5164 or email. Please leave your name, phone number and indicate evening or weekend time and day preferences, we will send you an email within 24 hours to schedule your visit.
Driving Instructions:
Take the 101 North to Valley Circle and turn right towards West Hills (Northbound on Valley Circle). Continue for approximately 15 minutes until you reach Roscoe and go past the intersection to the first stop sign which is Woolsey Canyon. At Woolsey Canyon, turn left. Proceed to the top of the hill (the house is visible as you drive up toward it, on your left, up on a point) to the entrance marked "The Summit". Once inside the gate, stay to your left and do not turn on any of the side streets. The home is set back from the road, not visible from the street for privacy from other homes and quiet peaceful living. Watch the house numbers, Annelle's house will be on the left side of the street after the second right curve in the road.
Of Interest:
Million Dollar Manufactured Homes - Featured on the Travel Channel™ - Sept. 2004
Featured on the CBS Evening News May 18, 2005 (read the story that aired, or see the video click here)

Manufactured homes (half the size of Annelle's without garages, and many without views) are selling for a million dollars plus (not including land). Yes, it's true, these facts have recently been highlighted in a special program presented by the Travel Channel.

The travel channel recently featured a special surrounding the remarkable bargains and lifestyles of the rich and famous, in, none other than manufactured homes. In the special, they highlight numerous unique manufactured homes around the world, many of which are right here in Southern California. The program features celebrities, professionals and others who currently live and enjoy their manufactured homes, people who wouldn't consider living anywhere else.

If you had a preconceived notion about purchasing a manufactured home, this program dispels the myths. Ask us, when you come up to see the property, and we'll be glad to play the program for you. If you thought you knew everything about manufactured houses, this program will show you the lifestyle that Annelle's enjoyed, and so many others.
Okay, our curiosity got the best of us, pictured to the right is a double-wide 20+ year old mobile home, one of the types mentioned in the Travel Channel special (discussed above), selling for upwards of a million dollars.
We had to see for ourselves, and in Oct. 2004, we took a drive through some of the most un-kept, rundown parks in Southern California, from Malibu to Palmdale, it's remarkable what one sees. This double-wide is what it looks like, no garage, tiny little place, and are you sitting down?
Sale price - $725,000 (land not included)
According to the CBS Evening News report, prices have been skyrocketing, and land leases are more than double that of Annelle's home.


Shocking example of what people are asking for

mobile homes in So. California.


This (picture to the right) is a good example of the custom exteriors being used today.
Check out the beautiful exterior fascia on this "million dollar" mobile home (by the way, it has no view, substantially smaller than Annelle's, and is truly one of those million dollar mobile homes, and yes, that's not including the land beneath it).

The amount of glass on Annelle's house, allowing for the spectacular views, isn't common to most homes where such breathtaking views don't exist, thus making the desire for a more spectacular exterior fascia important to this type of homeowner.

There's no limit to what can be done to these homes. Imagine, this home once looked like the one pictured above.

Million Dollar Mobile Home
General Information, Sale Specifics, Details
If you're considering buying a home in Southern California, chances are you've been shopping and like most, are finding that $800,000 isn't even buying much these days. Have you noticed what a 2400 sq.ft. home on a large hilltop lot with a view will cost you, in a good area of the valley? To duplicate Annelle's property would cost millions of dollars. You don't have to spend millions to live well in Southern California. Compared to spending millions, Annelle's spectacular home is one of the last real bargains in the area, especially since it's not just a house, it's a terrific lifestyle. No one can put a price on the serenity, the calm feeling that comes from simply looking out the living room windows. The city puts on a nightly event enjoyed in privacy, an event of twinkling lights and breathtaking landscapes. Simply priceless.
Perceived Value
In keeping with most unique situations, a valuation is perceived in a number of ways, depending on who's doing the evaluating. Typically, Realtors and appraisers "comp" the property, usually by simply pulling up sales or listings in the MLS (Multiple Listing Service); however, since there aren't any "like" homes or properties in the community, a comp is almost impossible. The best comps are all the way in Malibu, or, in the immediate area, the multi-million dollar homes located in nearby canyons with the same unobstructed views.
The only comparable homes, providing for special circumstance in a "like" manner to those enjoyed by this property, deeming them worthy of being a comp, are found in areas such as Malibu, where a comparable manufactured home recently sold for well over $1 million dollars (though, we understand it had 400sq.ft. less living space, no garage and a land lease more than double that of The Summit). The $725,000 home pictured above, at less than half the size of Annelle's, with no garage, and none of the spectacular features included with Annelle's house, easily shows the amazing value found in Annelle's home. And as evidenced by the CBS Evening News story, prices of manufactured homes (not including the land they sit on), where location is spectacular, are skyrocketing.

Speaking with Realtors and appraisers, a consensus of opinion finds the value of Annelle's home to be far greater than her asking price. Considering the fact that other homes in the community are selling for approximately $103/sq.ft., a simple valuation can be found by looking at the three most important elements of this property.
The most simple way to look at Annelle's home would be as follows:
2448 sq.ft. @ $103/sq.ft.
$252,144.00
Remember, this home has an oversized 2 1/2 car garage

Exterior patios, railings, gates & built-ins,
estimated replacement cost:

$150,000.00
One-of-a-kind view lot (size, unobstructed view, parking availability, etc.), typical value placed on this lot by appraisers:
$ 80,000.00

Keeping in mind, manufactured homes selling for $103/sq.ft. are suspected of not having made the extensive renovations and constructive improvements found in Annelle's home. Most manufactured homes in the community lack the amenities, they don't usually have sunken Jacuzzi tubs or double sinks and separate double showers in their master bath, nor do they commonly have Italian tile or granite countertops, Jennair grills or built-in bbq's. And they're not manufactured by the Rolls Royce of manufactured home builders, Silvercrest. Of course, no other home enjoys this type of unobstructed view.
FAQ
Home Specifics:
Year built: 1981
Model: Silvercrest. Replacement value $135,000.00 to $175,000.00+...
Improvements: Replacement value of custom patios w/built-in's: $250,000.00. Numerous other upgrades: $75,000.00 to $100,000.00.
Perceived value of views: $50,000 to $75,000+
Tax savings: Depends on your tax situation.
Learn More:
If you ever thought buying a manufactured home wasn't for you, consider those selling for millions of dollars. Read and/or view the story presented on CBS Evening News.
Disclaimer: Information relating to specifics such as square footage, ceiling heights, and other items is assumed to be accurate, however, it may not be exactly as described. Anyone seeking to confirm the information provided is encouraged to do so at their own expense. Also, various items may have been changed, upgraded, etc., since the description was placed online. Not being a real estate professional, Annelle urges anyone interested in buying to conduct any due diligence necessary to bring the same comfort level about the unique property and its value as has been described here. Though Annelle feels comfortable with statements made throughout this site, she does not expect anyone to rely solely on the information provided here and urges anyone considering buying the property to take steps necessary, aside from relying on the information provided here, to bring a comfort level to your purchase decision. Please be certain to make an appointment to visit Annelle's house and see it first hand.
*Arial photographs obtained from Zillow.com and Google Earth.