Annelle's Auto Gallery & More
From time to time, Annelle sells a car she's not using, a boat, etc., and to make it easy for buyers, pictures and descriptions can be found here.
More Isuzu info...

[1] [2] [3]

[next]


Click on each thumbnail for a closer view: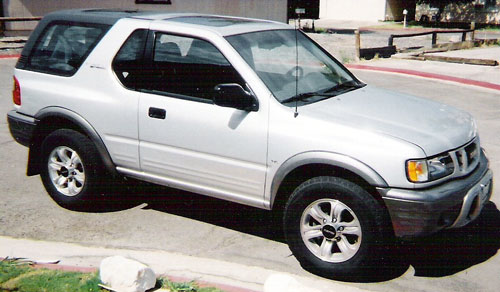 2001 Isuzu Rodeo Sport Purchased new by Annelle, this is a terrific SUV. Factory Engine/Drivetrain Warranty fully transferable, good till 2008 or 120,000 miles. Probably the most valuable feature of buying this car is the fact that the warranty is in place, should anything unforeseen happen. As of this moment, it looks and runs without any problem whatsoever, just like when it was new. This is a terrific SUV, you won't be disappointed. Ice cold a/c, plenty of power, fantastic sound system with surround sound, and so much more. Oh, and ALWAYS GARAGED!!!
Features:
(note, if for some reason, the box isn't checked, the feature is still on this Rodeo Sport)
V6 3.2 Liter
New timing belt, plus all other maintenance done, including injector servicing.
Automatic Transmission
Air Conditioning
New A/C Compressor
Power Steering
Power Windows
Power Door Locks
Cruise Control
AM/FM Stereo
Multi Compact Disc (6)
Premium Sound
Dolby/Surround Sound
Dual Front Air BagsABS (4-Wheel)
Tinted Windshield
Dual (2) Sun Roofs
Custom Bumper
Grille Guard
Two-Tone Paint
Alloy Wheels
Wide Tires
Orig. tires lasted 80,000 miles, proving that the alignment is excellent and tire wear was very even. New tires are same style, make, model as orig.
110K Highway Miles
We went to and from Las Vegas regularly, easy miles that didn't take a toll on the car. Though we have other cars, this car drives so well, it was a pleasure to take on the road.
120,000 MILE ENGINE & DRIVETRAIN FACTORY WARRANTY

Blue Book* Values
Blue Book's values do not consider the extended factory warranty which adds great value to buying this particular Rodeo Sport.

Retail Value
$11,690
Private Party (exc. cond)
$11,085
For information or to see the vehicle, email or call 1(818) 566-5164
*References made to the "Blue Book" refer to the "Kelly Blue Book", and are for information purposes only. You are encouraged to visit the Kelly Blue Book website located at http://www.kellybluebook.com. Kelly Blue Book is a registered Trademark and is not affiliated in any way to the annelletravis.com web site.